---
Legendary Photographer
Phil Stern Remembers
James Dean
James Dean loved to be photographed. In New York and Hollywood, Jimmy had court photographers who followed him (almost) everywhere he went: Dennis Stock (whose photo of Jimmy walking down Times Square in the rain became known as the "Boulevard of Broken Dreams" picture); the late Sandy Roth (who was the still photographer on Giant and who accompanied Dean on the fateful September 30, 1955 ride to Salinas); Frank Worth (still photographer on Rebel whose shots of Dean and Natalie are still widely published); Roy Schatt (who took the famous "torn sweater" series of photos and who later sued Curtis Management in a bruising (and successful) suit for copyright infringement); and Phil Stern, photographer for Life and other magazines, who took pictures of Jimmy hanging out in Googie's on Sunset Strip. It was this side of the rebellious actor that John Dos Passos was to capture in his essay, "The Sinister Adolescents": "He was always nice to his fans, though, the teenage crowd. He was just one of the gang with the night watch; the young would-be actors who hung around the early morning hamburger joints on Sunset Strip...he chainsmoked cigarettes and drank cup after cup of coffee right through till it was day. No wonder he couldn't sleep and turned up late and blearyeyed at the studio, Rebel Without a Cause."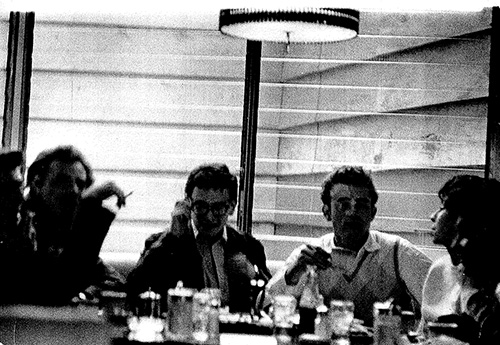 This interview was posted on American Legends in 1998; it took place at the Los Angeles apartment of Lionel Rolfe, the late journalist. Phil Stern died in 2014 at 95. His candid photographs of Jimmy and other Hollywood figures, Marlon Brando and Marilyn Monroe, are still known and admired.
AL: How did you meet James Dean?
PS: It was literally by accident. One day I was driving on Crescent Heights, and this guy on a motorcycle ran into my car. After he got up off the ground, he told me that his name was James Dean. I didn't know who he was. Later, I saw him hanging around Schwab's drugstore on Sunset, and we became friends.
AL: A lot of people found James Dean hard to get along with. There is a story that a magazine editor once told a photographer who had submitted a photo essay on Dean, "I like the pictures but I can't stand the subject."
PS: I was a full decade older than Dean, but we hit it off. We were both a little nuts. I was a New York Jewish kid, from the Bronx; he was this Midwest eccentric. Neither of us was part of the Establishment. I feel his politics was only for the underdog.
AL: How did you come to photograph him?
PS: I was working at the Goldwyn lot. They had a photography gallery to make it convenient for publicity shots. Maybe I was clairvoyant, but I invited Dean over for lunch. To make sure he'd show, I hinted that Marlon Brando might be around. Unfortunately, Brando didn't show....
AL: You got some great photographs that day.
PS: There are some people who you don't have to do anything with. And Jimmy was one of them: He was totally whimsical. There's one shot where Dean peeks out of a sweater. I didn't use a tripod or Strobe lights. I had a hand held Nikon. We broke all the rules that day.
AL: You also took the shot of Jimmy with his feet on the desk wearing Converse sneakers.
PS: The company used it in an ad campaign a couple of years ago.
AL: Converse claims that the photo increased sales of their Jack Purcell sneakers 50% a few months after the ads appeared.
PS: I did another photo shoot of Jimmy for Photoplay magazine. It was taken at Googie's.
AL: That was another favorite James Dean hangout. He would drink coffee all night with cronies like Vampira and Jack Simmons who had a bit part in Rebel Without a Cause.
PS: I shot one roll of film. They were all clowning around. Dean was at the head of the table. It's like the Last Supper. Later, Dean asked me if he could send some photos to his dad. I snipped out a roll. Some of the photographs were lost for years. Recently, they turned up in Jack Simmons's possessions after he died. I think Simmons saw his chance to get into history and kept the prints after Dean's death.
AL: Over the years, there have been rumors about Jimmy's relationship with Jack Simmons.
PS: Simmons was very effeminate. He was enamored with Dean. As for their relationship, anything is possible. But (in the 1950s) we didn't think along those lines. Consciousness was not what it is now....
AL: How does it feel to have photographed a legend?
PS: A few years ago, Carol Burnett's daughter (Carrie Hamilton) heard that I had photographed James Dean. She said, "That means you must have been in the same room. Oh, my God. You touched him!" Six months later, I told the story to Carol Burnett. She said: "I feel the same way about Jimmy Stewart."
---